Soon Dubai will be home to a massive 'moon-shaped' resort
13 September 2022 – Times of India – www.timesofindia.indiatimes.com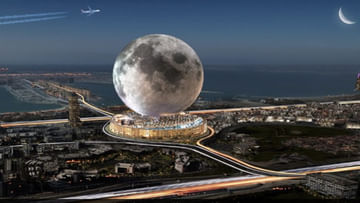 Dubai is unstoppable when it comes to futuristic attractions and adding records to its name! The city, which is already famed for its world's tallest building, the incredible Burj Khalifa, will soon add another feather to its cap by constructing a unique moon-shaped resort. It's already being duped as an engineering gem.
If reports are to be believed, the project will cost some $5 billion. The proposal is made by a Canadian architectural company, Moon World Resorts Inc. (MWR), and they are calling the project 'Moon Dubai'.
Talking to the local media, Michael Henderson, one of the two entrepreneurs behind the concept, informed that it's going to be a large and unique building. Measuring 224 m in height and 198 m sphere diameter, the project when completed will have 4000 luxury suites. It will feature a 'lunar surface' and will be surrounded by a 'lunar colony'.
The lunar colony will allow guests to enjoy affordable space tourism within the resort. The other prime feature of the resort will be the 'sky villas', the luxurious private residences.
The property will also feature a spa and wellness unit, an event space, a nightclub, meeting space, lounge and 'moon shuttle'.
The shape of the moon, as per Henderson, will be recreated using a carbon fibre composite material. This is a very strong and durable material. Not only this, it will also have solar cells to generate power. The surface of the moon will be illuminated and will also depict the various phases of the moon.